Real Estate doesn't walk into the office for a meeting, we bring the expert appraisal services you need to your market.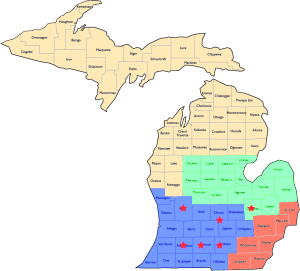 Michigan Commercial Appraisal
The Cronkright Company provides commercial appraisal services throughout the state of Michigan, with routine coverage of all major markets areas outside of the city of Detroit and surrounding region.  Commercial appraisal requires a highly skilled, professional consultant.  What you need is a highly qualified appraiser with the right skills, regardless of where your property is located. We can provide those skills and professional services.
West Michigan
The West Michigan Region is the primary service area for the Cronkright Company, with local coverage in this area. Major markets in the Western Lower Peninsula Include:
Lansing
Jackson
Grand Rapids
Holland
Muskegon
Kalamazoo
Battle Creek
The Cronkright Company has experience with a wide range of property types in these market areas, including office, retail, industrial and apartment appraisals. We also cover a variety of specialized property types in this region, including gas stations, hotels, bowling alleys and agricultural appraisals.
Flint & Tri-Cities Region
This area includes a number of local markets along with significant agricultural and rural areas located in Michigan's 'thumb'. Major markets in this area include:
Flint
Saginaw
Bay City
Midland
Birch Run
Tuscola, Sanilac & Huron Counties
Our appraisal experience in this region includes conventional commercial property types, hotels & RV Campgrounds.  Mr. Cronkright has also complete a number of specialized agricultural appraisals in the thumb region, including organic farms, cropland, poultry farms and farm equipment dealerships.
Detroit Regional
Detroit, Ann Arbor and the surrounding regions are not primary market areas for our appraisal services. Coverage in this region is limited to specialized property types, and the Cronkright Company has completed numerous gas station appraisals in the Detroit Metropolitan Area.
Northern Michigan & Upper Peninsula
Northern Michigan includes number of diverse markets, with significant rural areas and recreation land use.  Mr. Cronkright has completed numerous commercial appraisals in this area of Michigan, including gas stations, hotels on Mackinaw Island, condominium projects in Traverse City, industrial properties in Alpena County, government offices in Sault Ste. Marie, campgrounds in Paradise and many other projects throughout Northern Michigan and the Upper Peninsula.
Whatever your appraisal needs are, we can and do provide expert services in your area. Contact [email protected] and put our experience to work on your next project.